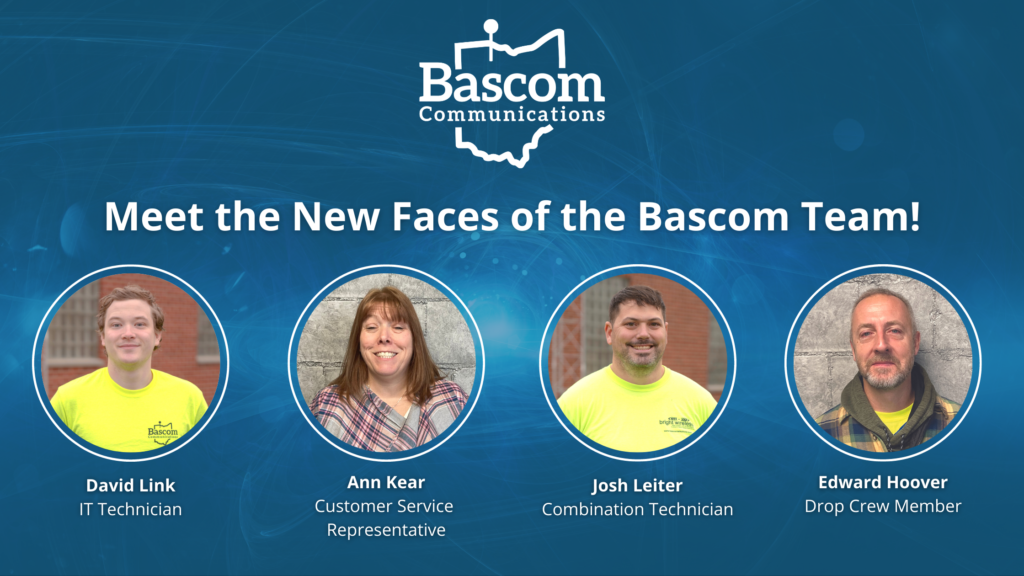 Bascom Communications is thrilled to welcome four new employees to our team! At Bascom Communications, we value our employees and believe they are the heart and soul of our organization. It is their skills, dedication, and enthusiasm that allows us to bring big-city access to rural Ohio and provide exceptional customer support.
Please join us in welcoming our new employees!
David Link
IT Technician
David Link joined the Bascom Communications team as an IT Technician in November. David is a graduate of Tiffin University with a Bachelor's in information technology with a double concentration in system and network support and software development. In his free time, he enjoys watching shows, playing video games, and making videos and streams. David is originally from Crawfordsville, Indiana. Previously David worked as an associate at Walmart. David is looking forward to helping people gain internet or receive an upgrade to their current internet to better their quality of life. Welcome, David!
Ann Kear
Customer Service Representative
Ann Kear joined the Bascom Communications team as a Customer Service Representative in November. Ann brings years of experience in sales and customer service with her as a former sales representative at Webster Industries, Inc. In her free time, Ann enjoys spending time with family, especially with her kids. Ann is looking forward to learning more about what Bascom Communications has to offer to its members and learning how to troubleshoot for members to better serve them. Welcome, Ann!
Josh Leiter
Combination Technician
Josh Leiter joined the Bascom Communications team as a Combination Technician in November. Josh brings a great work ethic and hands-on experience coming from Tiffin Deluxe Services. Josh enjoys spending time with family and friends. He and his wife, Shelley, have 4 daughters and a son who love to spend time at the lake. Josh looks forward to helping build a strong and helpful service to our customers and the community. Welcome, Josh!
Edward Hoover
Drop Crew Member
Ed Hoover joined the Bascom Communications team as a member of the drop crew in early December. Ed brings a great work ethic and dedication, as he comes to the cooperative from Webster Industries, Inc. after 33 years. He is the father of three and enjoys spending time with his family. Ed is looking forward to sunny days and helping install fiber to houses locally. Welcome, Ed!
Want to tell us your story?
Have a story about Seneca County you'd like to share? Or have any topics or questions you'd like us to cover? Fill out the form!
Your request was submitted successfully! We will be in contact as soon as possible.
There was an error processing your request. Please try again later.