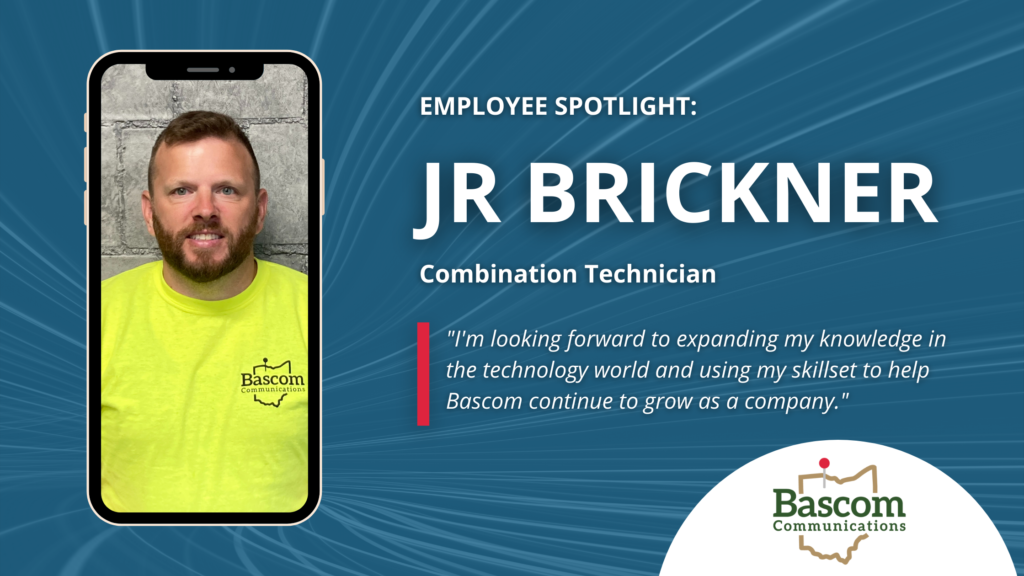 Bascom Communications is thrilled to welcome JR Brickner to our team! JR recently joined our team as a Combination Technician in August. Although he just started, JR is already an asset to our team, and we are thrilled to have him on board.
Before joining Bascom Communications, JR worked as a Driver Supervisor/Fleet Manager for Concordance Healthcare Solutions. He is looking forward to incorporating many of the skills he gained in his past work experience into his new position at Bascom. He is also excited about expanding his knowledge in the technology field as he gets more familiar with his role at Bascom.
JR graduated from Hopewell-Loudon High School, as well as the Electrical Trades program at Sentinel Career Center. He also has his Class A CDL. In his free time, you can find JR outdoors golfing, camping, shooting clay pigeons, and riding ATVs and dirt bikes. Local to the community, JR lives on the outskirts of Bascom with his wife, Megan, and their children, Graham and Hazel.
Welcome, JR! We're happy to have you as a part of the team, and we're excited to see you grow in your career at Bascom Communications.
About Bascom Communications
Bascom Communications offers high-quality telephone service, Fiber TV, Accelerate high-speed Internet access, security and personal home safety, Ethernet transport, and wireless Internet with LTE—along with many other services—to make your communications experience enjoyable, easy, and affordable. We continue to broaden our profile and reach to offer the most to our customers now and into the future.
Want to tell us your story?
Have a story about Seneca County you'd like to share? Or have any topics or questions you'd like us to cover? Fill out the form!
Your request was submitted successfully! We will be in contact as soon as possible.
There was an error processing your request. Please try again later.