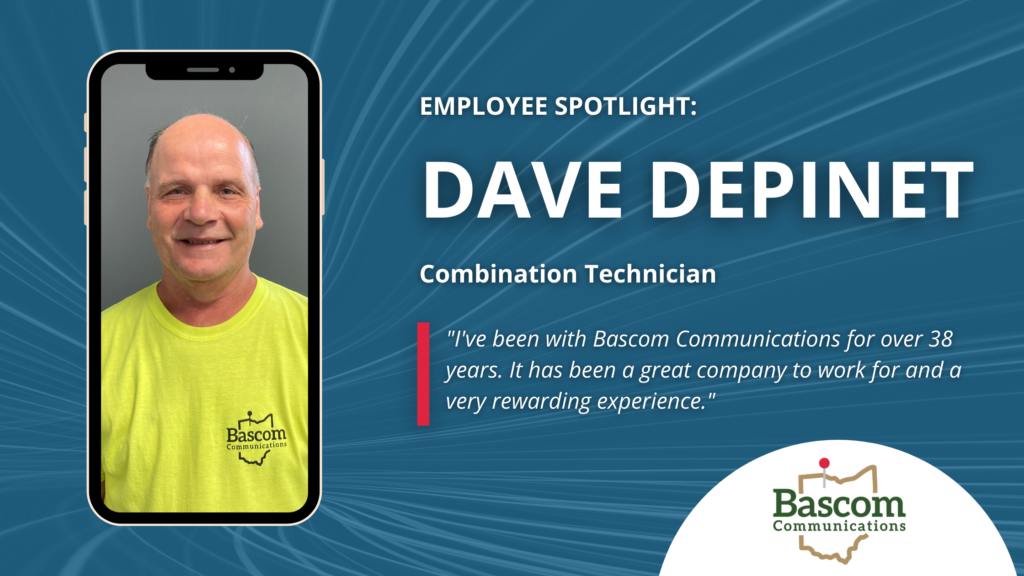 At Bascom Communications, our Employee Spotlight series aims to highlight the many talented individuals that make up our team. This month, we're excited to introduce you to Dave Depinet, Combo Technician at Bascom Communications.
Dave has been with Bascom Communications for over 38 years, and we're so glad that he continues to be a part of the Bascom family. In his role, he is primarily responsible for central office changes and phone trouble tickets. Dave is originally from right outside of Bascom and graduated from Hopewell-Loudon, so he is familiar with the area. Before joining Bascom Communications, Dave worked at the Bascom Elevator.
In his free time, Dave enjoys golfing as well as watching his sons coach and umpire. He has had a gratifying career at Bascom Communications over the last 38 years and is looking forward to retirement, so he can spend more time with his family.
Dave, thank you for your continued hard work. We're proud of you and the rest of the Bascom Communications team, who work diligently and take such good care of our customers with unparalleled service. We couldn't do what we do without you!
About Bascom Communications
Bascom Communications offers high-quality telephone service, Fiber TV, Accelerate high-speed Internet access, security and personal home safety, Ethernet transport, and wireless Internet with LTE—along with many other services—to make your communications experience enjoyable, easy, and affordable. We continue to broaden our profile and reach to offer the most to our customers now and into the future.
Want to tell us your story?
Have a story about Seneca County you'd like to share? Or have any topics or questions you'd like us to cover? Fill out the form!
Your request was submitted successfully! We will be in contact as soon as possible.
There was an error processing your request. Please try again later.