A new fiber project was announced Tuesday, September 13, as a partnership between two local cooperatives, North Central Electric Cooperative (NCE) and Bascom Communications (Bascom). The estimated $26 million dollar project will connect the NCE service area and expand Bascom's existing fiber footprint.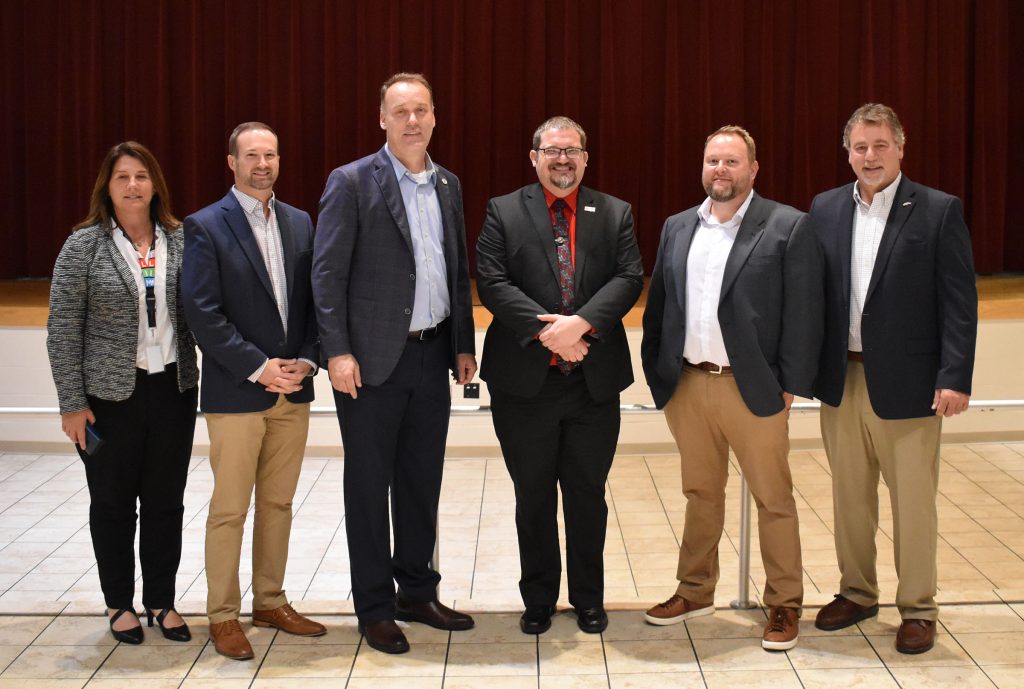 Dr. Laura Kagy (left), Superintendent of Seneca East Local Schools, Aaron Montz, President, and CEO of TSEP, Ed VanHoose, General Manager and CEO of North Central Electric Cooperative, Peter Voderberg, Chief, of Broadband Ohio, Nate Brickner, General Manager and CEO of Bascom Communications, and Tony Paradiso, Seneca County Commissioner at the announcement of a joint effort between Bascom Communications and North Central Electric Cooperative to provide broadband coverage throughout Seneca County.
There are an estimated 9,600 homes in rural Seneca County and most lack fast and reliable Internet access. Bascom currently, and through their Rural Digital Opportunity Fund project, has gigabit capable fiber optic services available to approximately 39% of these homes. This project will increase fiber optic broadband access availability to 81% of rural homes and businesses and allow for even further expansion down the line.
"This project shows that the dream of ubiquitous fiber coverage in Seneca County is possible. This infrastructure will be the backbone for economic growth and education, putting us as a destination in the state of Ohio. The collaboration of the two co-ops who care deeply about our community and its well-being for the long run, while providing critical local support, is a huge win for the area," said Nate Brickner, General Manager/CEO of Bascom Communications.
The need for fast, reliable, and affordable broadband internet has grown exponentially since the COVID-19 pandemic, and this project will increase access at a critical time for businesses and residents in the rural communities which has been highlighted recently by the Seneca County Broadband Study.
"Much like electricity in the 1930's, broadband access is a necessity, not a luxury. Helping to bring this essential technology to our service area continues our record of providing services that enhance economic development and the quality of life for our members," said Edward VanHoose, General Manager of NCE.
Project planning and backend work has already begun with construction slotted to begin in 2023. To learn more about the project, or to receive regular updates, please visit www.bascomcommunications.com/nce/
About the Partners
Bascom Communications is a progressive cooperative that has continued to be a technological and service leader in the area since 1906. Bascom has reinvested millions into their networks and offers all wired customers, both business and residential, the advantage of having the most advanced and reliable fiber-optic technology directly into their premises with local support from a caring provider. Bascom Communications offers Accelerate high-speed Internet, Fiber TV, high-quality telephone service, security, and personal home safety, Ethernet transport, and wireless Internet with LTE—along with many other services—to make your communications experience enjoyable, easy, and affordable.
Bascom Communications continues to broaden its profile and reach to be able to offer the most to its customers now and into the future.
North Central Electric Cooperative is a local, not-for-profit electric utility serving 9,920 consumers in Crawford, Hancock, Huron, Richland, Seneca, Wood, and Wyandot counties. North Central maintains around 1,800 miles of underground and overhead lines and 12 substations, and one metering point. Incorporated in 1936, North Central Electric has served the area for over 85 years and counting.
Want to tell us your story?
Have a story about Seneca County you'd like to share? Or have any topics or questions you'd like us to cover? Fill out the form!
Your request was submitted successfully! We will be in contact as soon as possible.
There was an error processing your request. Please try again later.