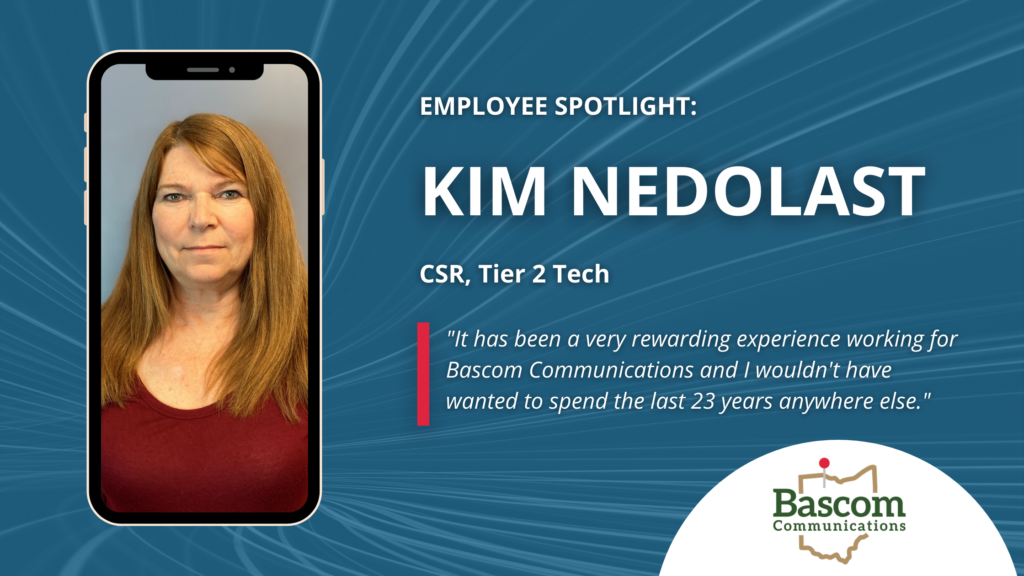 At Bascom Communications, we make it a point to hire positive, compassionate, hard-working individuals who enjoy working at a rewarding place where they can truly make a difference. One such employee is Kim Nedolast, and we are excited to introduce her as our Employee Spotlight for the month of May!
Kim has been with Bascom Communications for over 23 years, and we're so glad that she's a part of the Bascom family. She is an amazing contribution to our team, and we're excited to watch her grow even further in her career at Bascom Communications. Kim serves as Customer Service Representative, Tier II Tech.
If you were to ask anyone at Bascom Communications, they would say that Kim is an invaluable asset to the team. Every organization requires strong team players, and Kim is just that. Not only is she a committed worker, but she is also a great person in general. Any company would be lucky to have somebody like Kim, as she is an outstanding performer, fast learner, and very skillful. Our team would not be the same without her and her dedication to our business over the last 23 years.
Kim grew up in the Tiffin community and moved to Bascom in 1985. Before joining Bascom Communications, Kim worked for the treasurer's office at Hopewell-Loudon School District. In her free time, she enjoys spending time with her family including her husband, their three children, and their three grandchildren. Outside of work, Kim also serves on the board of a Greyhound adoption group.
Kim, congratulations and thank you for being our May Employee Spotlight! We're so thankful for you and the rest of the Bascom Communications team, who work hard and take such good care of our customers. We look forward to more years together!
About Bascom Communications
Bascom Communications offers high-quality telephone service, Fiber TV, Accelerate high-speed Internet access, security and personal home safety, Ethernet transport, and wireless Internet with LTE—along with many other services—to make your communications experience enjoyable, easy, and affordable. We continue to broaden our profile and reach to be able to offer the most to our customers now and into the future.
Want to tell us your story?
Have a story about Seneca County you'd like to share? Or have any topics or questions you'd like us to cover? Fill out the form!
Your request was submitted successfully! We will be in contact as soon as possible.
There was an error processing your request. Please try again later.