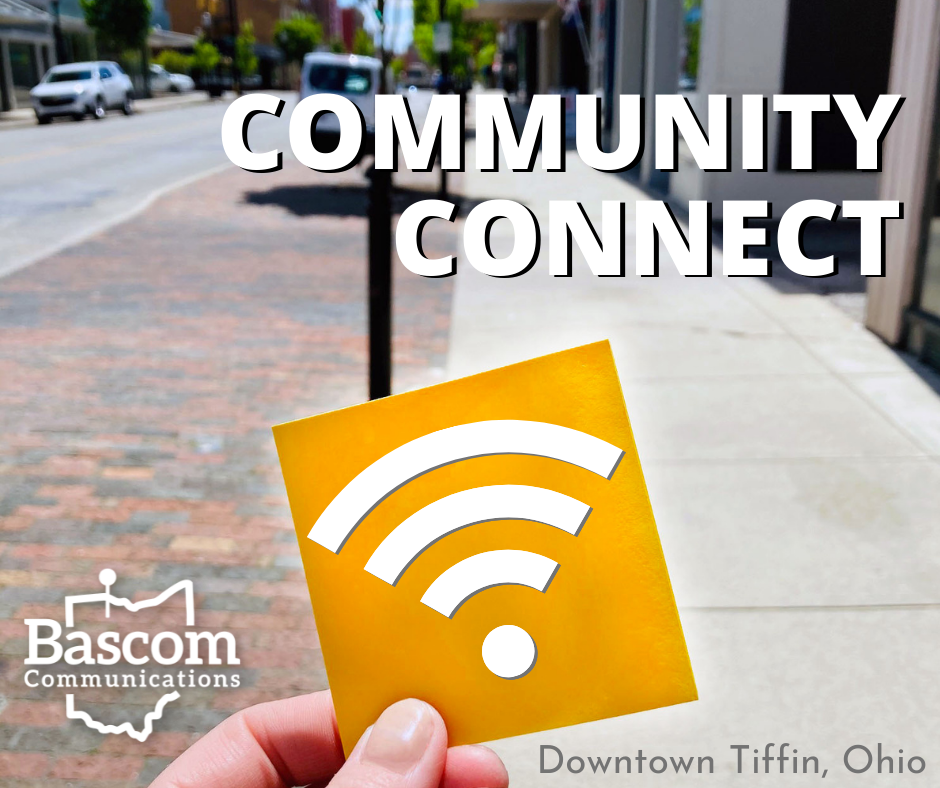 For more than 100 years, Bascom Communications has committed itself to providing innovative solutions to the world's most important needs. Our team is passionate about improving the lives of the people in and around Seneca County, Ohio and is continuously looking for creative ways to take rural accessibility to the next level.
Bascom Communication's Community Connect program is a free Wi-Fi initiative designed to connect people to the local Tiffin community. When you're in the downtown area, the program allows you to access free high-speed internet off the Bascom Fiber network by viewing short advertisements from local businesses.
Downtown Tiffin has a variety of events planned for 2021 and is expecting a good turnout due to many of the events being canceled last year. If you're planning on attending any of the upcoming events in the Tiffin area this year, don't forget to try out our free high-speed internet for a more connected experience.
Get Connected!
Go to Settings on your phone, computer, or other device.
Join the 'Community Connect Wi-Fi' network.
Accept Terms/Conditions.
Browse local advertisements from businesses in the area (keep an eye out for coupons and special offers).
Enjoy FREE Wi-Fi!
For your convenience, below is a list of the upcoming downtown Tiffin events for 2021:
Upcoming Events
Chocolate Walk – May 8
Trivia Nights (monthly on the Third Thursday at 7 pm)
Farmers Markets (May – October)
Third Thursday Series: Cruising Into Summer – June 17
Third Thursday Series: Sweet Summertime – July 15
Summer Stroll – July 31
Third Thursday Series: Taste of Tiffin – August 19
Motors 'n Music Car Show – August 21
Sidewalk Garage Sale Days – August 28
Third Thursday Series: SCYP Pizza Party – September 16
Heritage Festival – September 17 – 19
Main Street Summit & Celebration – September 23
Pumpkin Stroll – October 9
Third Thursday Series: Downtown Trick-or-Treat – October 21
Scavenger Hunt – November 6
Small Business Saturday – November 27
Christmas Tree Lighting – December 3
Christmas Walk – December 4
Free Family Movie – December 19
You can find more information about the upcoming Tiffin events here.
About Bascom Communications
Bascom Communications is a progressive cooperative that has continued to be a technological and service leader in the area ever since we were formed in 1906.
We have reinvested millions into our networks and offer all our wired customers, both business and residential, the advantage of having the most advanced and reliable fiber-optic technology directly into their premises from a local and caring provider.
Bascom Communications offers high-quality telephone service, Fiber TV, accelerate high-speed Internet access, security and personal home safety, Ethernet transport, and wireless Internet with LTE—along with many other services—to make your communications experience enjoyable, easy, and affordable. We continue to broaden our profile and reach to be able to offer the most to our customers now and into the future.
Want to tell us your story?
Have a story about Seneca County you'd like to share? Or have any topics or questions you'd like us to cover? Fill out the form!
Your request was submitted successfully! We will be in contact as soon as possible.
There was an error processing your request. Please try again later.