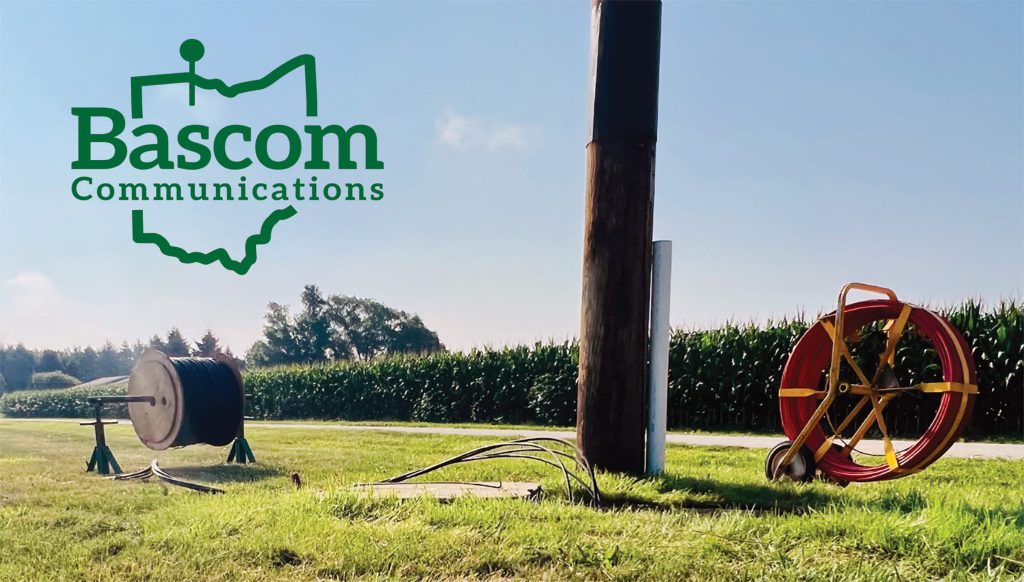 Bascom, Ohio – Bascom Communications is thrilled to announce the early completion of construction on its high-speed fiber-optic broadband expansion project, made possible by the funding secured through the FCC's Rural Digital Opportunity Fund (RDOF) Phase 1 auction. This achievement marks a significant milestone in their ongoing commitment to providing gigabit-speed broadband services to local communities.
With RDOF funding, Bascom Communications commenced construction in January 2022 and diligently worked to complete all construction for the project within 20 months, well ahead of the project's ten-year guideline.
Residents in the newly developed locations now can join the cooperative as members. They can select from Bascom Communications' local fiber services, including symmetrical gigabit-speed Internet, fiber television, phone, and more. Additionally, members will be able to bundle their Internet with fiber TV and phone services for cost savings.
During the RDOF reverse auction, Bascom Communications successfully obtained $364,847 in funding. This financial support facilitated the construction of services to 412 locations designated by the FCC as unserved. Bascom was also able to leverage the extensions from our existing infrastructure to expand fiber services to additional rural residences and businesses for an estimated 547 total passings. This expansion initiative primarily targets the rural areas within Seneca County, encompassing the townships of Big Springs, Clinton, Eden, Loudon, Pleasant, Scipio, and Seneca. As a result of this accomplishment, new possibilities for additional expansion are now on the horizon.
Nate Brickner, General Manager/CEO of Bascom Communications, expressed his excitement, stating, "Bascom Communications is a part of this community. We listen to the wants and needs of the people and businesses. Being involved, we see the current demand for connectivity and support. I commend our team, and all involved in this project, on how quickly this was completed to help meet those needs."
Brickner further emphasized the cooperative's commitment to community reinvestment, saying, "No one should be left without access to high-speed internet services in Seneca County. We have invested approximately $11 million in our fiber network since 2003. While we diligently work to bridge the digital divide, we recognize the magnitude of the gap that still exists. We are working with, and identifying, other like-minded partners that share our desire to enhance and expand our county's digital landscape."
The RDOF program, initiated by the Federal Communications Commission (FCC), is a $20 billion, 10-year initiative aimed at eliminating the digital divide across the United States by enabling service providers to deliver faster broadband speeds to rural and underserved regions. Bascom Communications stands among the 180 entities awarded funding by the FCC. Notably, Bascom Communications secured the largest win among the four companies awarded funds in Seneca County and remains the sole locally owned and operated telecommunications cooperative in the county.
To check if your location is within the expanded coverage area and to learn more about the services available, please visit Bascom's website at www.bascomcommunications.com.
Want to tell us your story?
Have a story about Seneca County you'd like to share? Or have any topics or questions you'd like us to cover? Fill out the form!
Your request was submitted successfully! We will be in contact as soon as possible.
There was an error processing your request. Please try again later.