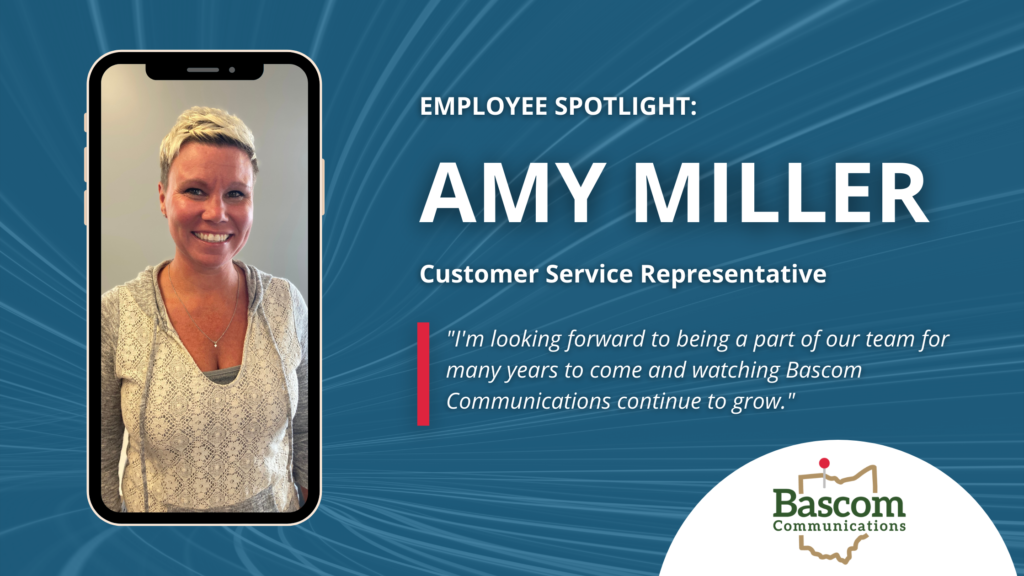 Bascom Communications is pleased to announce Amy Miller as our Employee Spotlight for July!
Amy serves as Customer Service Representative and has been with Bascom Communications since 2014. In her position, Amy has a variety of responsibilities, and in a way, she is the face of Bascom Communications. Amy greets any new or existing customers that visit the Bascom office. She always goes above and beyond to make them feel welcomed and appreciated.
Amy is also responsible for entering payments, answering phone calls, and completing deposits. She is an expert when it comes to helping our customers resolve any issues they may be experiencing, including billing questions, navigating our Smarthub portal, and paying online.
Before joining Bascom Communications seven years ago, Amy worked at Blanchard Valley Hospital for eight years as an Aide/Obstetrics Scrub Technician. She has transferred many of the skills she learned there to her current position at Bascom Communications.
In her free time, Amy enjoys camping and spending time with her family. When asked what she is looking forward to most within her career at Bascom Communications, Amy is excited to continue being a part of the Bascom Communications team and watch the company grow even more.
About Bascom Communications
Bascom Communications offers high-quality telephone service, Fiber TV, Accelerate high-speed Internet access, security and personal home safety, Ethernet transport, and wireless Internet with LTE—along with many other services—to make your communications experience enjoyable, easy, and affordable. We continue to broaden our profile and reach to offer the most to our customers now and into the future.
Want to tell us your story?
Have a story about Seneca County you'd like to share? Or have any topics or questions you'd like us to cover? Fill out the form!
Your request was submitted successfully! We will be in contact as soon as possible.
There was an error processing your request. Please try again later.