Bascom Communications is thrilled about our new Community Connect program, a free Wi-Fi initiative designed to connect people to the local Tiffin community. This new program allows local businesses to leverage free high-speed internet for their guests off the Bascom Fiber network to create a seamless, more connected customer experience.
Patrons will be able to access the Wi-Fi network by viewing short advertisements from a paid sponsor of the program. This not only supports organizations looking to advertise, it also drives traffic to businesses located in the downtown Tiffin area.
We offer a few different options as far as advertisements go. Whether you're looking for a small advertisement off to the side or a larger one front and center, we can make it happen. We work with you to determine the best course of action for your advertising needs. You have the option to choose a video, static or landing page ad. To get a better feel for ad sizes, click here.
For pricing and more information, see below: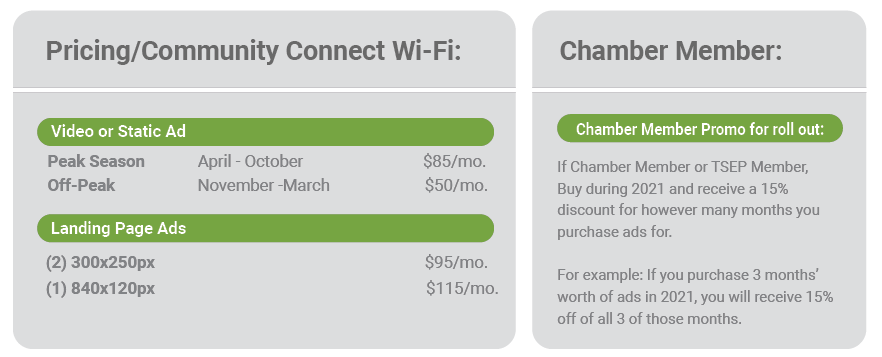 Are you interested in advertising with Bascom Communications? Contact us today to get started! We'd love to tell you more about our affordable advertising options.
About Bascom Communications
Bascom Communications is a progressive cooperative that has continued to be a technological and service leader in the area ever since we were formed in 1906.
We have reinvested millions into our networks and offer all our wired customers, both business and residential, the advantage of having the most advanced and reliable fiber-optic technology directly into their premises from a local and caring provider.
Bascom Communications offers high-quality telephone service, Fiber TV, Accelerate high-speed Internet access, security and personal home safety, Ethernet transport, and wireless Internet with LTE—along with many other services—to make your communications experience enjoyable, easy, and affordable.
We continue to broaden our profile and reach to be able to offer the most to our customers now and into the future.
Want to tell us your story?
Have a story about Seneca County you'd like to share? Or have any topics or questions you'd like us to cover? Fill out the form!
Your request was submitted successfully! We will be in contact as soon as possible.
There was an error processing your request. Please try again later.